Experience the Power of Tao Healing Hands
Master Sha has been offering the gift of Tao Healing Hands to humanity for over 10 years, to empower people to help themselves and others in a unique and powerful way during these challenging times. Listen in to Master Sha's presentation and teaching on Tao Healing Hands and to Alexia's uplifting message about how Tao Healing Hands can help you be uniquely you, but more empowered. Check out some of the heart-touching stories below.
---
What people are saying
A young boy, 7 years old, was diagnosed with Crohn disease. He could not eat well and had abdominal pain and diarrhea. After a Tao Healing Blessing, he immediately went in his mother's arms. She was crying, saying that he had not done that since the car accident they had 2 years ago, when severe injuries were sustained. The father said that now he is a happy boy, has friends, enjoys life, and does not say anything about pain. A few months after, the scan showed nothing anymore and perfect health. They are so grateful and feel a new life is beginning. – M.L.Z.
---
Announcing our new e-zine
The Heart!
We are delighted to welcome you to our first issue of The Heart, dedicated to offering extraordinary wisdom and techniques that help you discover the power of heart and soul to create health, wellbeing, and a world of love, peace and harmony.
---
What is Tao Calligraphy?
Tao Calligraphy is a unique art that goes beyond art to offer a meditative healing experience that can nourish and transform every aspect of life. Tracing, writing, and meditating with Tao Calligraphy helps to remove blockages to success in every aspect of life, including health, happiness, inner peace, relationships, finances and business, and more. Tao Calligraphy carries the positive frequency and vibration of the shen qi jing (shen is soul, heart, mind; qi is energy; and jing is matter) of Tao Source, and each calligraphy creates a healing field that can heal and transform life by removing negative messages that create blockages to well-being.
Learn More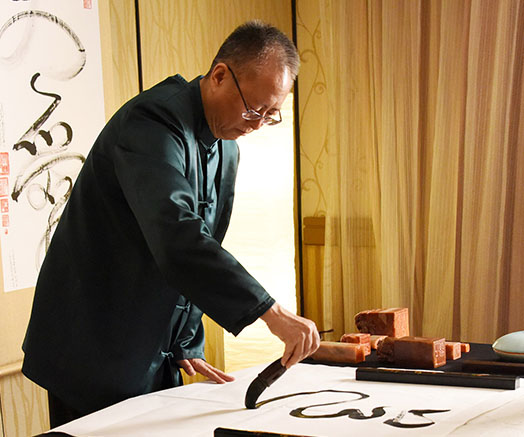 I had a severe accident. My wrist bone was broken and my face was deep blue with bruises. After one week in the Tao Calligraphy Healing Field for 1 hour per day, my pain was released, my face was almost normal again, and my wrist was healed.
M.K. Netherlands
I was having a difficult time walking because I fractured my hip and my collar bone and was walking with a cane. After the blessing (and visiting the Tao Calligraphy Field), I have no pain in my hip. I can walk and stand. I feel like I've been reborn.
B.S. Hawaii
Through regular sessions in the Tao Calligraphy Healing Field, I tapped into unknown creative powers within myself. I received a Tao Light Transmission for my heart. A week later I received a large grant for a long-term project.
M. W. Professional musician
Have your own story to share?

Submit Your Story
Get in Touch
If you have enjoyed and are amazed at what you have witnessed here then get in touch with us and share your story or how we can help you.