Experience the Power
Heart Touching Stories
Cenly Wong is the mother of four school age boys and a high school special needs teacher who has a loving, supportive family. However, she was hospitalized six times in 2016 for suicidal attempts. She lived in darkness and did not know why. Her boys eventually had to go live with their grandparents. Cenly felt she would never see the light again, but all that changed when she found Tao Healing Hands. Watch this amazing story of healing and awakening to see how Cenly Wong is now not only emotionally and mentally stable, but helping others too.
---
Pearls of Wisdom
Greatest Light and the first energy chakra are the topics in this video, but Master Sha shares other important wisdom also. Reading from a page in his book: Tao I – The Way of All Life, Master Sha shares teachings about the Jin Dan (Golden Light Ball) – what is it and how it is normally formed. Master Sha makes many points that are sacred wisdom teachings that are not easy to find and gives viewers a practice for building the Jin Dan and boosting and developing the first energy chakra, which is the key to healing.
---
Tao Healing Hands Stories
I met Lisa (a Tao Healing Hands Practitioner) during my routine business as a Realtor. Literally what happened next was nothing short of a miracle! I had mentioned a pain in my stomach muscles that western medical Dr.'s at Dartmouth Hitchcock could not explain. Without laying hands on me, Lisa did a blessing within 24 hours I HAD NO PAIN. 8 MONTHS LATER I AM STILL PAIN FREE!! THANK YOU LISA! YOU ARE A BLESSING. – Nella Thompson
Learn more about Tao Healing Hands
---
What people are saying
When I first received my Tao Calligraphy Practitioner treasure, a friend had surgery planned for 2 tears in his right rotator cuff. For work, he maintained landscaping, using weed wacker and leaf blowers daily. His pain was 8-9. I wrote Da Ai in the air, in front of his shoulder 3 times. Then I wrote a Da Ai Calligraphy which I gave him to trace every day. In 3 weeks, his shoulder was healed. He was able to lift 150 – 200 lbs in the gym again and he cancelled his surgery. – M. T. Colorado
---
Announcing our new e-zine
The Heart!
We are delighted to welcome you to our first issue of The Heart, dedicated to offering extraordinary wisdom and techniques that help you discover the power of heart and soul to create health, wellbeing, and a world of love, peace and harmony.
---
What is Tao Calligraphy?
Tao Calligraphy is a unique art that goes beyond art to offer a meditative healing experience that can nourish and transform every aspect of life. Tracing, writing, and meditating with Tao Calligraphy helps to remove blockages to success in every aspect of life, including health, happiness, inner peace, relationships, finances and business, and more. Tao Calligraphy carries the positive frequency and vibration of the shen qi jing (shen is soul, heart, mind; qi is energy; and jing is matter) of Tao Source, and each calligraphy creates a healing field that can heal and transform life by removing negative messages that create blockages to well-being.
Learn More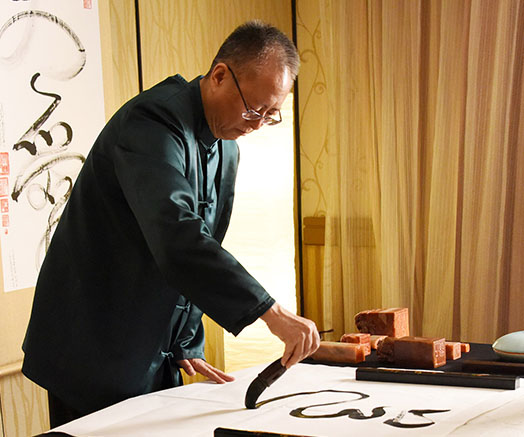 I had a severe accident. My wrist bone was broken and my face was deep blue with bruises. After one week in the Tao Calligraphy Healing Field for 1 hour per day, my pain was released, my face was almost normal again, and my wrist was healed.
M.K. Netherlands
I was having a difficult time walking because I fractured my hip and my collar bone and was walking with a cane. After the blessing (and visiting the Tao Calligraphy Field), I have no pain in my hip. I can walk and stand. I feel like I've been reborn.
B.S. Hawaii
Through regular sessions in the Tao Calligraphy Healing Field, I tapped into unknown creative powers within myself. I received a Tao Light Transmission for my heart. A week later I received a large grant for a long-term project.
M. W. Professional musician
Have your own story to share?

Submit Your Story
Get in Touch
If you have enjoyed and are amazed at what you have witnessed here then get in touch with us and share your story or how we can help you.